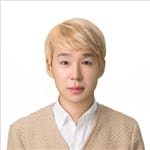 Jamie Choi
Piano Teacher
Brief info
Piano Teacher Jamie Choi is a pianist with wide-ranging musical skills that span multiple genres. From classical to jazz, Jamie plays it all. He has a bachelor's degree in classical piano performance and a master's degree in jazz studies. Jamie performs as a collaborative pianist with vocalists, actors, choruses, choirs,
and instrumentalists. Most recently, he played in a musical theater production of Wonderland at Frederick Loewe Theater in New York, working alongside composer Frank Wildhorn. He served as the associate music director and main pianist in the performance of City of Angels at New York's Skirball Center, and recently performed as a soloist at "Piano City" concerts held in New York at One World Trade Center and St. John's in the Village. Additionally, Jamie is a busy accompanist for voice lessons. An instructor teaching keyboard skills, group piano lessons, and private piano lessons at New York University, he simultaneously teaches young learners at Laurissa Jane Music Studio and his own private studio. Looking back, lots of things had to happen for Jamie to get from young piano student to where he is today. Jamie's musical journey began to get serious after studying classical music at Peniel High School of the Arts in South Korea. He went on to attend Chungang University, and studied in the studio of Hyekyung Lee, where he earned his Bachelor of Music degree in classical piano. While there he won a piano concerto competition which awarded him a merit-based scholarship.
After years of focusing primarily on classical music, Jamie turned his attention to a new genre that captured his imagination: musical theater. He served as an associate music director and pianist in the original Korean productions of Agatha and The Interview. With a burgeoning interest in other exciting genres, he decided to move to one of the world capitals of music: New York City. There, he began studying jazz at New York University, where he worked with preeminent jazz musicians like Grammy Award winner Alan Broadbent and three-time Grammy nominee Alan Ferber, and arranged and
self-produced his first album: Flowing Tide... In 2019, he completed and earned a Master of Music degree in jazz studies. He is now completing his second Master of Music degree in Piano Performance, concentrating in Collaborative Piano (Musical Theatre).